Natural black marble slab in Iran
black marble slab is always a great choice to add an air of sophistication and exquisiteness to every setting. There are variety of natural black marble slab that are available on the market. The majority of them are dolomites or black limestones (sedimentary rocks) that have a shine after polishing. Here we have explained different types of black marble slabs and how to take care of them.
1.Marquina marble Sample
Marquina Marble is possibly the most famous natural black marble slab on the planet, thanks to its intensity and uniformity of its black background, distinctive white veins, as well as its large quantity of production.
It is an emerald-colored limestone that has a fine grain and typical white veins of calcite. It comes from the quarries in Markina (Biscay), Spain.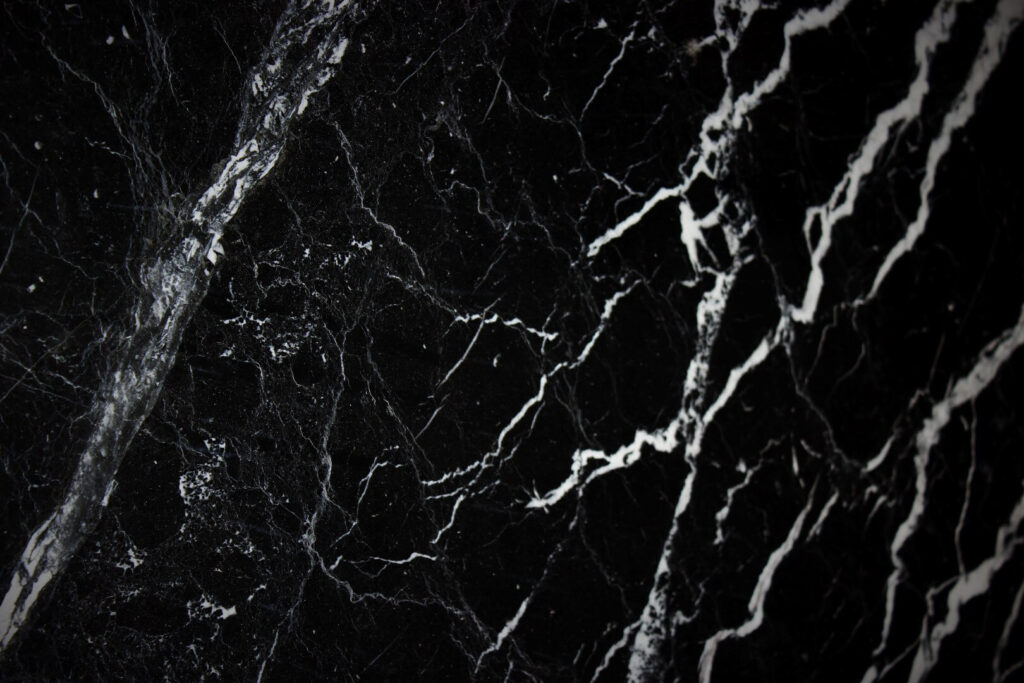 2.Noir St Laurent Marble sample
Noir St Laurent marble is black limestone that has a fine grain, with gold-brown veins and white inlays.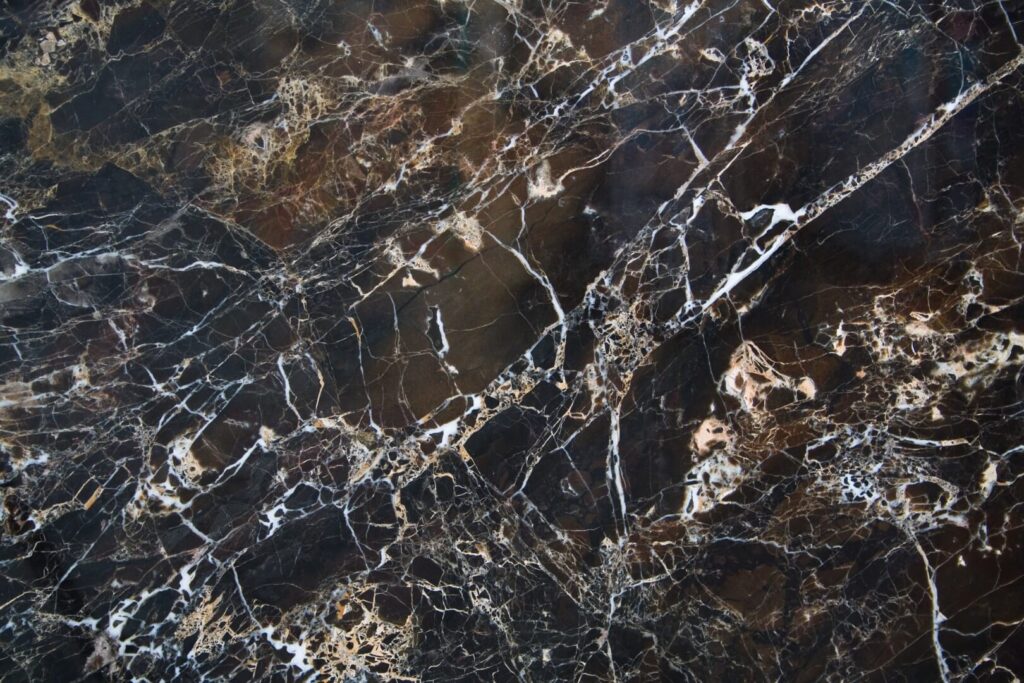 3.Port Saint Lauren Marble sample
It is the Nero Port Saint Laurent marble is a dark grey/brown limestone that has fine grains and gold calcite veins. It sparkles when polished.
The quarry is situated in the Agadir-Biougra region and is a Meosozoic material that is located at the boundary of two platforms made up of carbonate from both the High Atlas and Anti Atlas.
4.Fossil Black Morocco
The Fossil natural black marble slab is a grey/black limestone with a medium/thick grain. It has numerous fossils that have shells, like the Goniatites of Ammonites and Orthoceras that are found during the Upper Devonian Period. The quarry that it is extracted from can be found in the Erfoud region in Erfoud, Morocco.
Because of various natural causes including fish, plants, and other marine fossils from the past like orthoceras and ammonites were found in the area with anoxic climate. Later, these minerals were discovered due to various shifts in tectonics and the withdrawal of the sea.
5.Nero Dorato or Sahara Noir Marble
The natural black marble slab of Tunisia called Nero Dorato is also called Nero Sahara, Sahara Noir and Nero Sahara, Black Aziza Marble, Nero Tunisi, and Nero Berber. It is situated in the Zaghouan region in the northeast of Tunisia 60 km from south Tunis.
The natural black marble slab stone is a limestone micritic with Ooliths and plantonical Foraminifera. Its color ranges from black to grey, and white veins of recrystallization in calcite, but there are also golden and brown hues.
6.Nero Portoro, Italy
The Nero Portoro is an Italian marble. It's regarded as being the most expensive marble on the planet. It's been widely known and utilized.
It is a dark micritic limestone that has golden veins and contains sulfides and limonite. The majority of the composition is dolomite and calcite in the secondary. The black color is derived from organic matter, bitumen, and Sulphides, which are formed in an anaerobic atmosphere.
The quarries lie on the outskirts of La Spezia city. La Spezia, and are geomorphologically enclosed in the Portovenere limestone formation in the Tuscany hills
7.Black and Gold, Pakistan
Gold and black marble samples from Pakistan, Black & Gold is a natural black marble slab that is found within the mountain ranges of Balochistan Province, which is situated in the southwest of Pakistan. In this region are extracted various other natural stones, such as Onyx or Granite.
Natural black marble slab cleaning
Natural black marble slab needs to be polished regularly and sealed throughout the years to maintain its beautiful appearance. Here's what you must and shouldn't do when polishing and cleaning your marble tiles, table, and more.
Clean up spills immediately
Natural black marble slab is a highly delicate type of rock, so it is important to clean up spills as soon as they occur. Acid is present in beverages and food like wine, coffee alcohol, tomatoes, citrus fruits meat, yogurt, and vinegar, be aware, that acid can cause damage to the marble.
Use trays in bathrooms.
Make sure that the natural black marble slab is protected from the products you use for your toilet by not placing them directly on the floor. Make use of trays to keep natural black marble slab out of contact with the chemicals that make up a significant portion of modern products contain. The tray also looks attractive and neat, and it's ideal for decorating the bathroom.
Make sure to use mats and rugs for your entrances.
Put a doormat on the front door to avoid dust and dirt from slipping into the flooring. Carpets should be placed under furniture that moves such as tables and chairs, and in any areas with high traffic. Keep your floor clean to get rid of dirt and dust. It is also possible to use vacuum cleaners but be aware. Do not press too hard or for too long to keep from scratching.
Use special cleaners 
The natural black marble slab surface is soft and brittle and therefore, it is prone to be damaged by staining and spills. Cleaning marble surfaces in the correct method is essential for the appearance of natural black marble slab. All-purpose natural cleaners as well as vinegar should be avoided. Their acidity can harm the soft stone's surface. Cleaners that are alkaline like bleach should be avoided too.
Don't use scrubbing sponges
The stone's surface is very soft and attempting to remove a stain by using sponges, or stainless-steel scrubbers for dishwashing can cause serious damage to the stone surface.
Do not leave the marble's surface wet.
As we've mentioned natural black marble slab is porous, meaning it absorbs liquids very quickly. If you don't dry the natural black marble slab after cleaning, mopping, or spilling something, the natural black marble slab will absorb the liquid, and this could cause damage.
Avoid sitting or standing on marble countertops.
Marble countertops aren't as durable as other types of substances and the fact that they are placed on them can cause damage to the surface. It's extremely dangerous to walk on because of the slick surface and could make you slip or slide or even fall.
Application Of natural Black Marble slab
There are numerous uses for natural black marble slab. The versatile stone can be utilized for commercial and residential areas and can be used for a range of different purposes. Here are a few examples:
Residential Spaces:
natural black marble slab is used by homeowners in many ways, such as flooring, countertops, backsplashes as well as fireplace surrounds, and much more. It's the ideal choice for any room since it can be utilized in practically every space!
Commercial Spaces:
Commercial areas, such as retail stores and restaurants, hotels and many more can profit from the black stone in a variety of ways. This kind of stone is usually utilized on floors and other surfaces where pedestrians are walking due to its being extremely sturdy. It is also used to create a luxurious, stylish look in any room.
Paving:
Outdoor paving is a very popular option with natural black marble slab. This stone is ideal for sidewalks, driveways, and other places that need to endure the rigors of use and wear. It's beautiful and can add an element of class to any room.
Countertops:
As well as being used as flooring, natural black marble slab is a very popular choice for countertops. It's elegant and luxurious and is a great choice for bathrooms and kitchens alike!
Backsplashes:
Many homeowners decide to utilize their backsplashes as a chance to display their preferred type of marble. Natural black marble slab is a favorite choice for this reason since it can be used to create a striking style or a delicate effect, based on what you like.
Fireplace Surrounds:
Similar to other areas the natural black marble slab can be utilized to create an elegant and sophisticated fireplace surround. This is an excellent option to add a bit of elegance to your home and distinguish it from the rest.
Flooring:
As previously mentioned, it is a well-liked option for flooring both in commercial and residential spaces. It's tough and looks fantastic in any environment. You can pick from huge chunks of natural black marble slab or tiles or small ones to give the style you desire!
Is black marble natural marble?
there are various kinds of natural black marble mined from countries like Italy, Pakistan, Morocco. natural black marbles have a shine after being polished but they have to be taken care of.
Is black marble expensive?
The price of black marble is different according to the size, shape, type and nature of stone and the country of its origin or even shipping costs. but black marble is one of marble's more affordable types with very high quality.
what are the uses of black marble?
because of the dark color it is more common to use this stone in interior designs rather than exterior. black river marble floors are one the most common uses of the stone. kitchen decorations is another common usages of black marble.
Does sunlight effect natural black marble slabs?
yes. because of the dark colors black marble should be placed in places with limited light and large space since sunlight will change the black color.
how to clean natural black marble?
In order to maintain the beautiful appearance of natural black marble you have to polish them regularly. make sure to use special cleaners that will not damage the soft and brittle surface.